Complete Automotive Care Centre
Servicing All Makes & Models "Your Import Specialist"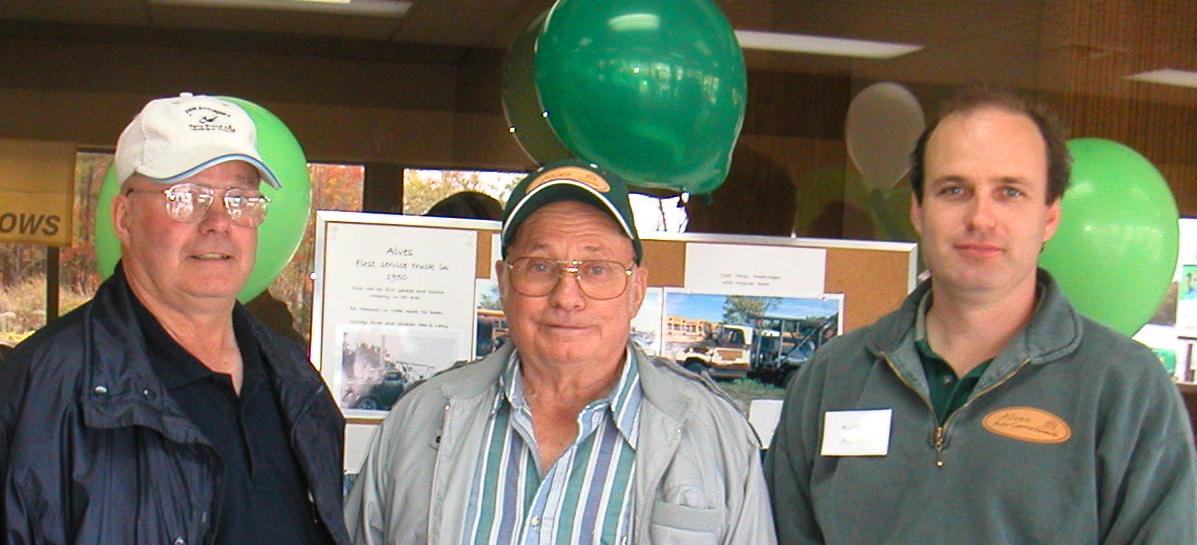 Dan Alves, Murray Alves and Kirk Alves
For close to 60 years the Alves family has been in the business of servicing vehicles of all makes and models. What began on Horseshoe Lake Road, in 1946, continued on Highway 69, as Alves Auto Centre is handed over to a third generation.
Murray Alves, founder of what began as Horseshoe Lake Motor Service, said he's always been "mechanically inclined."
At age 18, Murray joined the air force, trained as an airplane engine mechanic.
"All the time I was in the service, I thought about getting into the the service station-garage business, that's when I started that place on Horseshoe lake with another partner who was also in the air force," said Murray.
From there, he got his mechanic's license and purchased a piece of properly, south of Parry Sound, on Highway 69.
In addition to running a service station, Murray also ran a bus line, servicing the Parry Sound District. Both businesses were passed down to Murray's son, Dan, upon his retirement in 1976, even though Murray was still involved with the businesses until the mid 1980s.
"I started working for Dad when I was 10-years-old," said Dan. "I was the dew worm boy. I would be out counting dew worms and selling them and pumping a little bit of gas and sweeping the floor."
Murray attributes that the great success and longevity of the business to a great deal of "hard work and good service."
Dan agreed, adding that the auto centre is a family oriented business that has always gone the extra mile.
"Not many people want to work 24 hours a day, seven days a week anymore," said Dan.
As of July 1, Dan's son, Kirk, and his wife, Jennifer, have taken over the family business and changed its name to Alves Auto Centre, while Dan continues to operate his school bus line.
"From an early age I spend a lot of time here and I enjoy working on vehicles, I just grew into what we're doing today," said Kirk. "before I started working for my father, in the summertime, I would help my grandfather fix his buses and when I was old enough, about 13, I began pumping gas."
Kirk put himself through college, where he took mechanical engineering technology, working with his family.
"When the business started with my grandfather, it was all about customer service," said Kirk, who wants that to continue.
Working with his father and grandfather has been the best part of going to work everyday for Kirk. While he has tried his hand at other jobs, such as drafting for Ontario Hydro, he knew his calling was with the family business.
With the help of Ms. Alves, who has a background in customer service and marketing, the two intend to bring the auto centre into "the new generation."
In addition to taking over, Mr. and Ms. Alves have also taken over ATR Towing and Recovery which will enable them to further their range of customer service.
We have taken steps to make our Auto Centre more comfortable and family oriented. We have returned to our roots as an all makes and models service centre, servicing everyone, not just Volkswagen customers. With the towing company added to the business, we are now able to provide a higher level of customer service to the whole area.
With three little ones of their own, the duo hopes that some day, they too might want to continue on the family business.
"One hope is that one of the three of them will want to stay and do exactly what their father did," said Ms. Alves.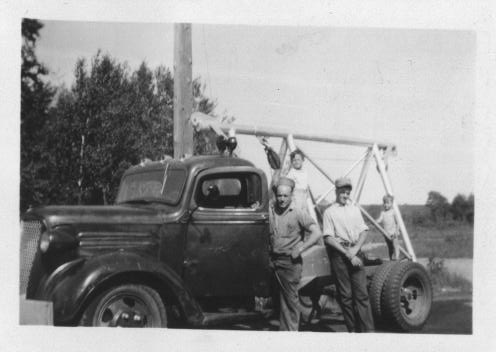 Murray Alves 1950